Working with an axis title
Chart types other than pie and meter can have
x
-
axis or
y
-
axis titles. To add and format an
x
-
axis title, navigate to the X-Axis section of Format Chart. Select Visible, shown in
Figure 22‑76
. Then, type text in Title. To modify the position, outline, padding, or font style of the axis title, choose Title. Toggle between the
x
‑
axis or the
y
-
axis to make title changes to one or the other by navigating to X‑Axis or Y-Axis in the Chart Area.

Figure 22‑76
Title field and labels in an axis section
How to format an axis title
In Axis Title, shown in
Figure 22‑77
, you can position the title above or below an
x
-
axis, or you can position the title to the left or right of a
y
-
axis. You can outline the title, and add padding around it using Insets. You can change the size and style of the font, and add a shadow or a background color.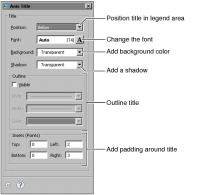 Figure 22‑77
Formatting options for an
x
-
axis title