Understanding Datamart Security
Only an administrator has access to the Datamart Security option. Datamart Security supports filtering the data a scheduled job generates. Select one or more user groups or users in Datamart Security before submitting the job. The job generates a document containing only the data that the selected user groups or users have permission to view.
Optionally, in Custom users group, specify a string that the design recognizes and can also use to filter data the job generates.
For more information about page-level security development, see
Integrating Applications into BIRT iHub
.
Figure 3‑21
shows Datamart Security.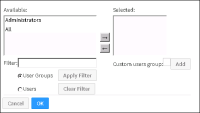 Figure 3‑21
Selecting roles or users for which to filter job output
How to configure Datamart Security
1
Log in to Information Console as Administrator.
2
From the menu icon next to a file, choose Schedule.
3
Choose Advanced Scheduling, then select Datamart Security.
4
Select User Groups or Users to see the available user groups and users, as shown in
Figure 3‑21
.
5
In Available, select the user or user group to use, then choose the right arrow. The user or user group appears in Selected.
6
Optionally, enter a string in Custom users group or Custom user. Select Add.
The string appears in Selected.