Setting volume privileges
By default, all volume users have visible and read privilege on the volume root folder. The All user group represents all users. Assigning visible and read privileges to the All user group assigns these privileges to all users. The application administrator can assign privileges on the root folder to any user or user group.
How to set privileges on the volume root folder
1
Choose Manage Volume from the side menu in Information Console. Then, select Privileges.
2
On Privileges, select a user or user group from Available and move it to Selected using the right arrow.
3
Assign privileges to a selected user or user group by selecting from the list of privileges. For example,
Figure 3‑2
shows assigning write privilege on the volume root folder to the Engineering user group. Choose OK.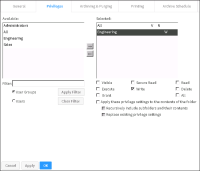 Figure 3‑2
Setting privileges on the volume root folder