Accessing iHub Administration
Only an application administrator can access iHub Administration. The application administrator accesses iHub Administration from Information Console.
1
Open a web browser. In the address bar, type the following URL:
http://localhost:8700/iportal
2
The first time you log in, log in as the default application administrator user, Administrator. On Account Login, in Username, type Administrator. Leave Password blank, as shown in
Figure 2‑1
.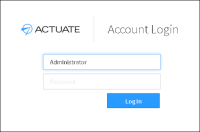 Figure 2‑1
Logging in to Information Console as Administrator
3
In Information Console, left-click administrator and choose iHub Administration, as shown in
Figure 2‑2
.

Figure 2‑2
Choosing iHub Administration